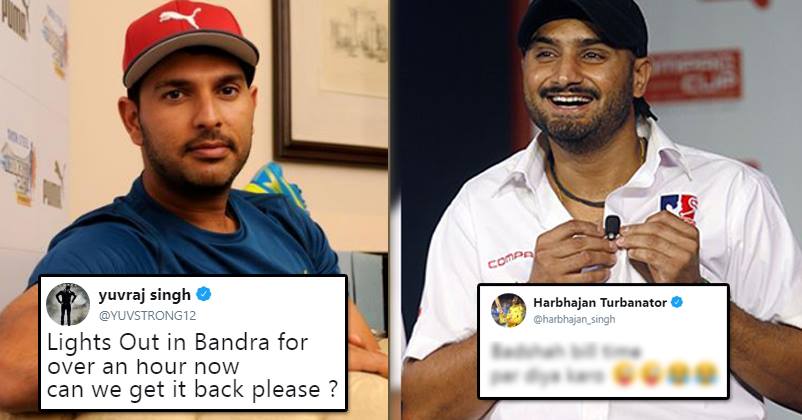 Harbhajan Singh and Yuvraj Singh are among those cricketers who have a great sense of humour and know how to enjoy life to the fullest. They are very good friends and share a great bond. There is no denying the fact that they have immensely contributed to the cricket world and not only their bats speak on the field but they have the capability to knock others down on social media as well.
Pulling each other's leg and making fun of one another is quite common among good friends and Bhajji and Yuvi are no exception to it. A noteworthy similarity between the duo is that they both are Punjabis and we all know that most of the Punjabis are endowed with wit and humour.
Recently when Yuvraj Singh took to the micro-blogging site Twitter to complain about electricity, Harbhajan Singh pulled his leg in the funniest manner.
Yuvi articulated his unhappiness over power cut in Bandra for more than one hour and hoped to get it back at the earliest.
Here's what Yuvi tweeted, "Lights Out in Bandra for over an hour now … can we get it back please ?!?! "
Check out his tweet:
Bhajji took a dig at Yuvraj and asked him to pay the electricity bill on time.
He wrote, "Badshah bill time par diya karo "
Here's the tweet:
Twitter loved Harbhajan's sense of humour and this is how people reacted over this funny conversation:
You nailed it Bhajji!