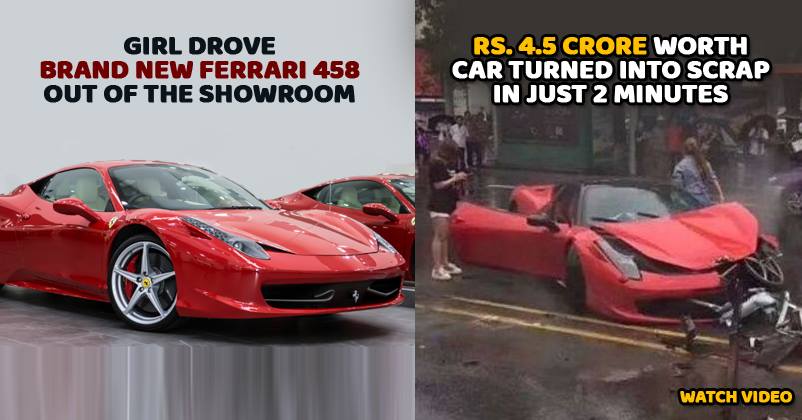 There is no denying the fact that a person should be trained enough to drive a vehicle before he/she takes it to the road otherwise a very complicated situation can arise as in China.
A Chinese woman converted a brand new Ferrari 458 in a pile of broken parts just after few minutes of taking it on rent from a rental dealership. The incident took place in the city of Wenling and the clip shows that the woman loses control of Ferrari 458 due to slippery road conditions.
Check out pics:
Just minutes before the crash, the woman shot a video in which she was showing the dashboard of the car and bragging about it, saying, "First time driving a Ferrari. This truly is the most amazing feeling."
Watch The Video:
The CCTV clip shows that the Ferrari loses control and collides with the barricade and a BMW, causing heavy damage to the vehicle. The footage also shows that the front part of the vehicle is completely destroyed while airbags were also deployed. However, the good thing is that nobody appears to be seriously injured in this unfortunate incident.
The rental dealership paid a huge amount of Rs 4.5 crore (£500,000) for importing Ferrai 458 in China while the amount required to repair it will be approximately half of it. It is however not clear as to the woman driving the vehicle was covered with insurance or not and whether she will be able to pay for the damages or not.
Let's see what happens further in this matter.