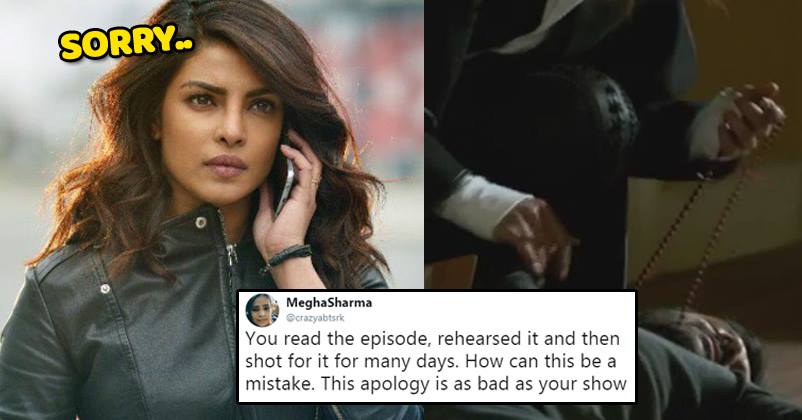 Priyanka Chopra has been making headlines for all the wrong reasons for some days now. Recently, her show Quantico showed Indian nationalists planning an act of violence in Manhattan so that they could put the blame on Pakistan for this.
This portrayal of Indians in a poor light was quite objectionable and Twitterati tore apart the show and the actress and made up mind of boycotting both.
After much uproar on social media, Priyanka took to the micro-blogging site Twitter to express her sense of apology and said that she was never intended to hurt anyone's sentiments, adding that she is a proud Indian.
Here's what she wrote,
"I'm extremely saddened and sorry that some sentiments have been hurt by a recent episode of Quantico. That was not and would never be my intention. I sincerely apologise. I'm a proud Indian and that will never change."
Check out her tweet:
People don't seem to be in the mood to accept Priyanka's apology and this is how Twitterati slammed her for the tweet:
Before Priyanka, ABC Studios' producers also issued an apology on Saturday, regretting to step into "a complex political issue", adding that their intention was not to hurt or offend anyone.
The statement read:
"ABC Studios and the executive producers of 'Quantico' would like to extend an apology to our audience who were offended by the most recent episode, 'The Blood of Romeo'. The episode has stirred a lot of emotion, much of which is unfairly aimed at Priyanka Chopra, who didn't create the show, nor does she write or direct it. She has no involvement in the casting of the show or the storylines depicted in the series."
Here's what they said about the show which according to them is a work of fiction,
"The show has featured antagonists of many different ethnicities and backgrounds but in this case, we inadvertently and regrettably stepped into a complex political issue. It was certainly not our intention to offend anyone."
What do you have to say in this regard and Priyanka's apology? Let us know your views.