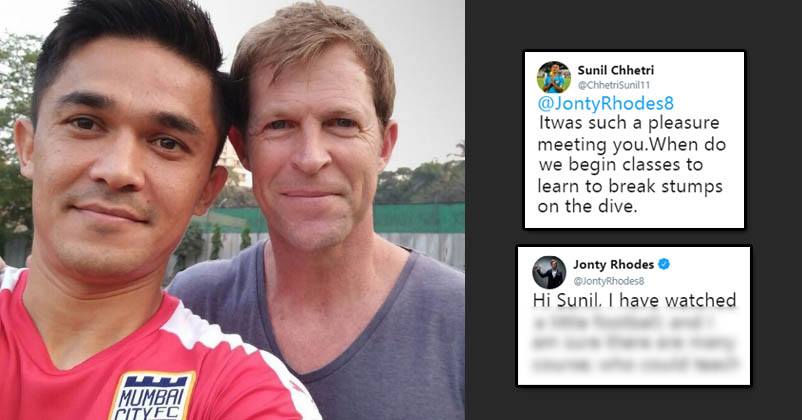 Indian Football striker Sunil Chhetri has become extremely popular these days thanks to an emotional video of him that broke the Internet. Post that the way Indian team won the Football match against Kenya made everyone super happy.
Millions of people are talking about Sunil Chhetri on the Internet. Even the bigwigs of Indian cricket like Virat Kohli and Suresh Raina couldn't resist talking about him.
However, it was funny to notice that former South African Cricket player Jonty Rhodes got connected to a fake account of Sunil Chhetri. Jonty came around a tweet from the Twitter account named Sunil Chhetri and responded to it.
The amazing catcher failed to catch the fact that it was a fake account and this instance made everyone laugh. The conversation started as the fake Sunil Chhetri account tweeted-
@JontyRhodes8 Itwas such a pleasure meeting you.When do we begin classes to learn to break stumps on the dive.
Jonty Rhodes replied him-
Hi Sunil, I have watched a little football; and I am sure there are many strikers, not u of course; who could teach both of us to DIVE!!!!
Fans were quick to tell Jonty that it was not the real account of Sunil. Have a look at some of the reactions-
Jonty Rhodes noted it and responded-
I should never go through my twitter account directly after yoga – thanks everyone for setting me straight
Well, that's really hilarious.