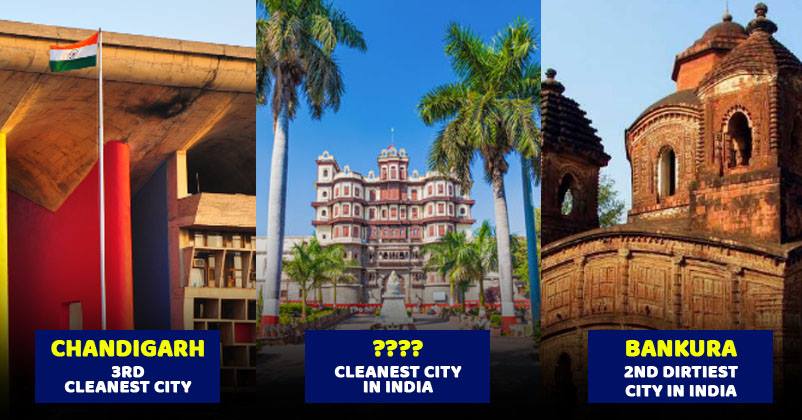 Cleanliness is definitely one of the most important factors of our lives and it is very necessary for living a healthy and happy life.
On Saturday, the Indian Prime Minister Narendra Modi released the report of cleanliness rankings of municipalities that have been awarded after conducting the cleanliness survey (Swachh Survekshan). There are seven municipal areas of West Bengal that figure in the list of ten dirtiest municipalities of the country. One municipal area from Odisha and 2 from Bihar also figure in the list of dirtiest municipalities. West Bengal has taken part in this survey for the first time.
In 2017, Gonda in UP was the dirtiest municipal but this time it has jumped to 228 out of 485 municipalities that have population of more than 1 lakh. A total of 4,203 municipal areas were covered in this survey.
When it comes to the cleanest cities, Indore and Bhopal have retained their last year's positions while Chandigarh, Pune and Vijayawada have pushed Surat, Tiruchirappalli and Vadodara to make it to the list of 10 urban areas. Indore is the cleanest city while Bhopal is on the second spot. Last year, Chandigarh was at the 11thrank but this time it is at the 3rd spot while NDMC (Delhi) improved its position to 4th from 7th last year.
Varanasi, Prime Minister' constituency has also shown improvement by securing the 29th rank this year in comparison to the 32nd rank last year.
Here's the list:
10 Cleanest Cities:
1. Indore, Madhya Pradesh
2. Bhopal, Madhya Pradesh
3. Chandigarh
4. NDMC (New Delhi Municipal Council), Delhi
5. Vijayawada, Andhra Pradesh
6. Tirupati, Andhra Pradesh
7. Visakhapatnam, Andhra Pradesh
8. Mysuru, Karnataka
9. Navi Mumbai, Maharashtra
10. Pune, Maharashtra
10 Dirtiest Cities
1. Bhadreswar, West Bengal
2. Bankura, West Bengal
3. Simari Bakhtiyarpur, Bihar
4. Champandi, West Bengal
5. Bansberia, West Bengal
6. Chandbali, Odisha
7. Khardah, West Bengal
8. Bidyabati, West Bengal
9. Panihati, West Bengal
10. Khoda Makanpur, Uttar Pradesh
The cleanliness survey is one of the biggest ever survey conducted by the Indian government and PM Modi is quite confident that we are very near to making our dream of clean India come true. He said,
"During the past four years, we have built more than 8.3 crore toilets in rural and urban areas."
What is the ranking of your city?