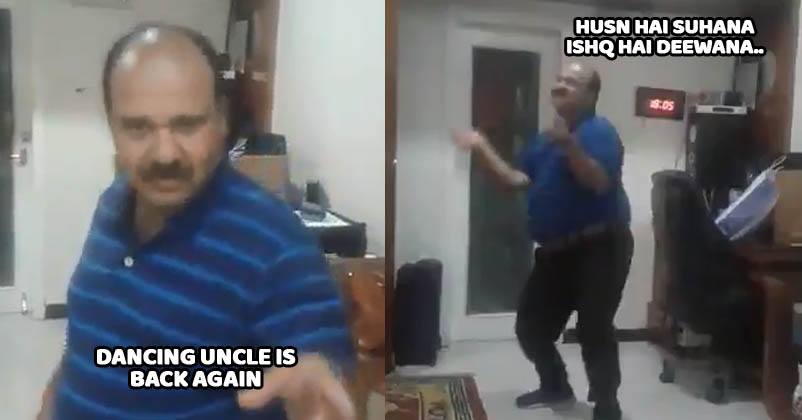 A few days ago, a middle-aged man stormed the Internet and rocked the boring social media with his extraordinary dance moves!
Yes, you guessed it right! We are talking about the 'Dancing Uncle' who became an overnight Internet sensation after his dance video on the track "Aapke Aa Jane Se" went viral.
His name is Mr. Sanjeev Shrivastava and he belongs to Bhopal, Vidisha district. The 46-yr man serves as an Assistant Professor and teaches Electronics at Bhabha University, Bhopal.
The dance video was shot on 12th May at the wedding ceremony of his brother-in-law and the woman who was seen standing with him is his wife Anjali Shrivastava, as many of us already guessed it.
Soon after the first video got circulated, Dancing Uncle's second video also hit the Internet in which he was seen shaking a leg on "Chadti Jawani Meri Chaal Mastani".
Well, the function is over and he has reached his home but he doesn't seem to stop even now.
Yes, that's right! Dancing Uncle is back with two more videos that are probably shot at his residence in Bhopal.
In the first video, he's dancing to the tunes of "Soni De Nakhre" from the movie "Partner" while the second song is "Husn Hai Suhana" from "Coolie No. 1".
Here's the first video:
Click here
to watch this video directly on Twitter
Watch the second video:
Click here
to watch this video directly on Twitter
He's already a star on social media and people are loving his dance videos. Check out some selected tweets:
It is clearly evident that he's a big fan of Govinda and dances flawlessly like him. We wonder how the actor will respond to these videos if he watches them. What do you think?