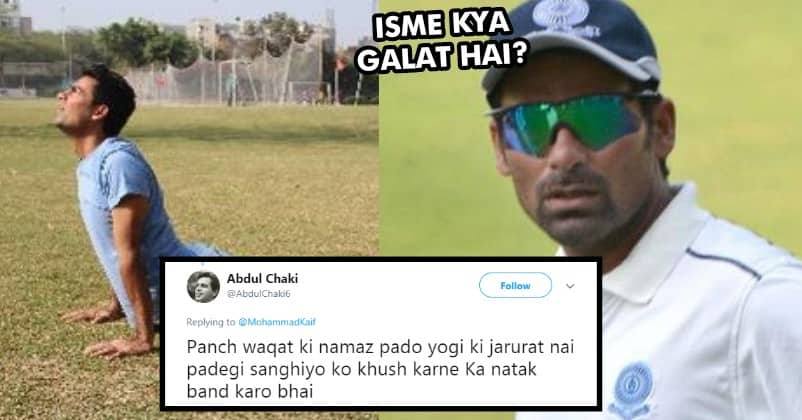 There is no denying the fact that yoga is one of the best exercises to keep body fit and mind relaxed. The world celebrated International Yoga Day on June 21 and various celebrities from politicians like PM Narendra Modi to cricketers including Suresh Raina and Ajinkya Rahane to Bollywood celebs such as Shilpa Shetty shared their pics and videos in which they were doing yoga. This was indeed an effort to inspire their followers for living a healthy and fit lifestyle.
Among various prominent personalities, Indian cricket player Mohammad Kaif also took to the micro-blogging site Twitter and posted a photo in which he was seen performing Supta Vajrasana. He also talked about the advantages our body and mind get from Yoga and expressed his love for it.
Here's the pic:
Mohammad Kaif shared it with caption, "Yoga doesn't just make the body flexible, but also our mind and emotions. Truly Love yoga ! #InternationalYogaDay2018"
Soon after this, many Muslims who were not pleased with the cricketer doing Yoga tried to school him for offering Namaz 5 times a day so that he is not required to do Yoga. Check out some of the selected tweets:
Well, Yoga has got nothing to do with religion and it provides equal benefits to anyone and everyone who does it, regardless of any religion, creed, cast or colour.
What do you have to say about this trolling? Let us know your views.