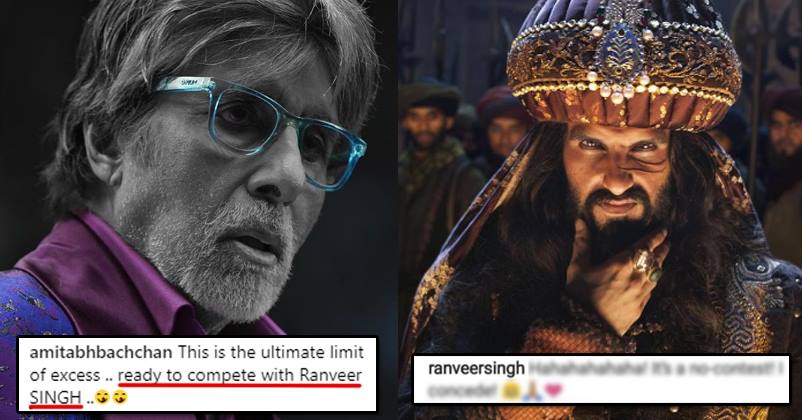 Amitabh Bachchan is totally crazy for Social Media. It won't be wrong to say that when he is not shooting for films or attending events, he is on social media.
Who can forget his Twitter banters regarding reducing followers and not getting a reply from other Bollywood stars for his Birthday wishes?
On the whole, Big B never shies away from expressing what he feels and sometimes even teases the young brigade of Bollywood.
Recently, Amitabh Bachchan decided to have some fun with Ranveer Singh. Big B took to Instagram and posted a pic of him. Along with the pic he wrote-
This is the ultimate limit of excess .. ready to compete with Ranveer SINGH ..
You can also check the pic below-
He clearly challenged Ranveer Singh in a humorous way however he didn't take it. Calling it a "no-contest", Ranveer Singh said that he accepts defeat.
Here's what Ranveer exactly commented on Big B's pic-
"Hahahahahaha! It's a no-contest! I concede!"
Isn't that hilarious? It's so much fun to see Amitabh Bachchan doing all kinds of fun stuff on big screen, small screen and mobile screen as well. He is such a charmer.