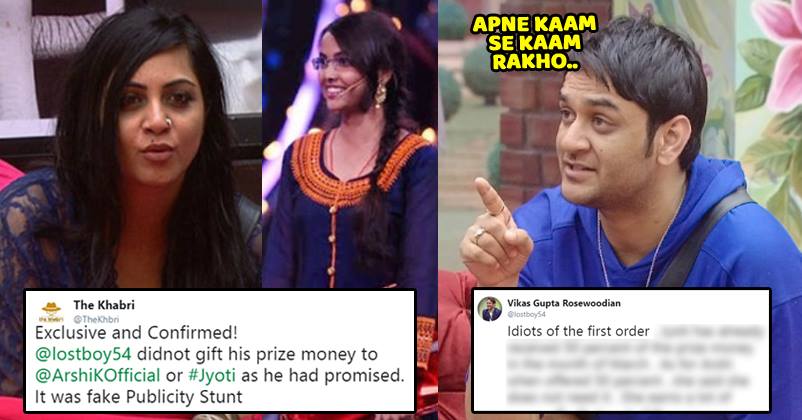 Vikas Gupta made headlines with his stint on the popular reality show Bigg Boss 11 and people appreciated him when he took the decision of dividing his prize money of Rs 6 lakh between co-contestants Arshi Khan and Jyoti Kumari.
Here's what Vikas said,
"I will give them Rs 3 lakh each. Jyoti stood by me like a rock when the whole house was against me. Arshi, too, was protective of me. She cared more about me as a friend than the show."
Nevertheless, a fan page of Bigg Boss took to Twitter and wrote that Vikas didn't keep his promise and he made the statement just for the sake of publicity to get people's attention and sympathy.
The Khabri wrote,
"Exclusive and Confirmed!
@lostboy54 didnot gift his prize money to @ArshiKOfficial or #Jyoti as he had promised.
It was fake Publicity Stunt By Vikas Gupta to gain More sympathy and attention."
Soon people started slamming Vikas without verifying the authenticity of the news. Check out some tweets:
This all irked Vikas and he took to Twitter to clear the air. In a couple of tweets, Vikas wrote,
"Idiots of the first order. Jyoti has already received 50 percent of the prize money in the month of March. As for Arshi when offered 50 percent, she said she does not need it. She earns a lot of money. So that part of the prize money has been spent on people who need it . And kindly stop trying to be in news or make news at my expense."
Check out his tweets:
Well, Jyoti herself confirmed that she received her share of money in a video:
Click here
to watch this video directly on Twitter
As far as Arshi is concerned, she later revealed that she only told this to the fan page.
She also shared the screenshots of conversation on Twitter with caption, "Ok. This is what I said to @TheKhbri after they dm'ed me repeatedly. And yes, I don't need it. Never did. Peace "
Below are the screenshots:
It's very necessary to verify some information and check its authenticity before posting it on social media as it affects a large mass and only one tweet is enough to defame an innocent person.