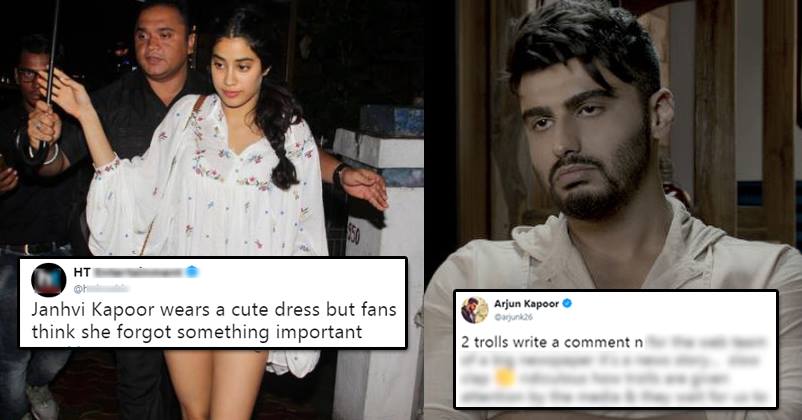 There is no denying the fact that Arjun Kapoor and Sridevi never shared a cordial bond; however, after the veteran actress left this world, Arjun has always been standing like a pillar of strength for his father Boney Kapoor and step-sisters Janhvi and Khushi.
We have seen many instances in which Arjun and Anshula proved it on social media that even though Sridevi is not there, they will protect her daughters and that's why whenever a troller or media house presented Janhvi in a bad light, they gave it back to them in harsh words.
The same has happened once again when a leading daily Hindustan Times published an article about Janhvi, saying that she wore a cute dress but fans thought that she forgot to wear her pants.
The whole article was about how people trolled Janhvi for her dress and this was unbearable on the part of Arjun.
Being a big brother, Arjun Kapoor has been showing his protective side towards Anshula, Khushi and Janhvi and once again, the "Ishaqzaade" actor slammed the daily in harsh words on Twitter.
He wrote, "2 trolls write a comment n for the web team of a big newspaper it's a news story… slow clap ridiculous how trolls are given attention by the media & they wait for us to retaliate…the lesser the stories the lesser the trolls win…"
Here's his tweet:
This is not the first incident and we got to see Arjun's anger when it comes to the respect of his sisters previously also. About a couple of months ago, he slammed a portal for making cheap remarks about Janhvi's dress and tweeted, "You know what, f**k you man, f**k you as a website for highlighting or bringing it to anyone's attention and it is shameful that your eye would go searching for something like this. Shame on you… This is how our country looks at young women. Yet another shining example. Ashamed by this."
We appreciate Arjun's brotherly love and hope that people will stop trolling Janhvi now.