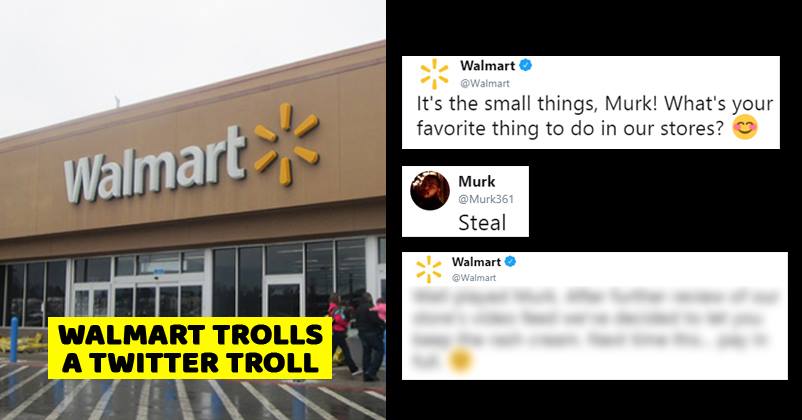 Social media is an interesting place. Everyone can share their thoughts in public and if it's interesting, others also talk about it.
Being regular users of social media, we all have seen a lot already. People keep on trolling celebs and even brands. A lot has happened between Amazon, Flipkart and Twitter users who found Twitter a great platform to mock them.
And now someone tried to have fun time with an international brand Walmart but got a kickass reply in return.
It all started when a Twitter user posted-
I Like Going To Walmart For Fun
Though Walmart's twitter account was not tagged in the tweet by him, he got an interesting reply.
Walmart replied him-
It's the small things, Murk! What's your favorite thing to do in our stores?
Now the guy decided to extend this chat and milk the attention he got. So he tweeted again with an over-clever reply-
"Steal" he replied
Walmart came up with a savage reply this time which surely cracked up many people on Twitter. Have a look-
Well played Murk. After further review of our store's video feed we've decided to let you keep the rash cream. Next time tho… pay in full.
Take a look how people reacted-
This is what keeps me on Twitter
Well we do agree with the comments. Do you?