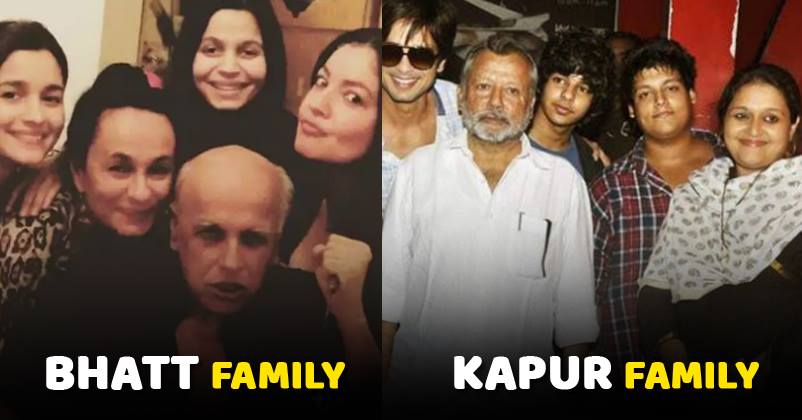 No matter how many talented actors and stars we have in Bollywood, when it's about star families nothing can beat that. You must've heard many times that Bollywood is all about families. That's because these families have gained huge respect among the audience as well as industry with their work.
They've been in this industry for many generations and their contribution is such that absolutely no one can deny it. Here is a list of 10 star families in Bollywood who have gained great respect over the years.
1. The Kapur Family
The family of immensely talented actor Pankaj Kapur has many stars like his wives Supriya Pathak and ex-wife Neelima Azeem. Pankaj Kapur's son Shahid himself is a big Bollywood star and his half-brother Ishaan has also entered the industry with films like Beyond The Clouds and Dhadak.
2. The Akhtar Family
Javed Akhtar (the ace scriptwriter and lyricist) and Shabana Azmi (beautiful and immensely talented actress) have exceptionally talented children Farhan Akhtar and Zoya Akhtar. While Farhan is a singer, actor, director and producer, Zoya is also a critically acclaimed actress.
Javed Akhtar's ex-wife Honey Irani also has been an Indian film actress earlier.
3. The Khan Family
Veteran scriptwriter Salim Khan's family is also highly respected in the industry. He has star sons like Salman Khan, Sohail Khan and Arbaaz Khan. Even Salim Khan's wife Helen has been a famous Bollywood actress.
4. The Bhatt Family
Mahesh Bhatt – The renowned and ace Bollywood filmmaker's brother Mukesh Bhatt is also a famous producer. Mahesh Bhatt's daughter Pooja Bhatt has been a famous film actress and now Alia Bhatt is ruling the hearts with her acting. Mahesh's wife Soni Razdan is also a bollywood actress.
Emraan Hashmi and Mohit Suri are also the nephews of Mahesh Bhatt.
5. The Anil Kapoor family
Anil Kapoor himself, his brother Boney Kapoor and Sanjay Kapoor have been in the industry for a long time. While Anil and Sanjay have worked as actors, Boney Kapoor worked as a producer.
Boney Kapoor's wife Sridevi was a legendary actress and his son Arjun Kapoor is working as an actor now. Daughter Janhvi Kapoor will soon make her Bollywood debut with Dhadak.
Anil Kapoor's daughter Sonam Kapoor is a famous actress and another daughter Rhea Kapoor is a famous stylist and producer.
Anil's son Harshvardhan has also entered Bollywood with films like Mirzya and Bhavesh Joshi Superhero.
6. The Roshan Family
Bollywood actor and filmmaker Rakesh Roshan's brother Rajesh Roshan is a music director. Son Hrithik Roshan is a big Bollywood star.
7. The Mukherjee Family
Veteran actress Tannuja's daughter Kajol is known to everyone. Her cousin Rani Mukerji is also a famous Bollywood actress. Young filmmaker Ayan Mukerji is also the cousin of Kajol.
8. The Bachchan Family
Legendary Amitabh Bachchan himself and his actress wife Jaya Bachchan have Abhishek Bachchan as a son. Abhishek's career is heading to touch 20 years mark soon and his wife Aishwarya is also a much loved Bollywood actress.
9. The Legendary Kapoor family
Now, this is an epic family of Bollywood. The family of Prithviraj Kapoor which has given stars like Raj Kapoor, Rishi Kapoor, Randhir Kapoor, Karisma Kapoor, Kareena Kapoor, Ranbir Kapoor has a great contribution to the industry.
Apart from them, Rishi's wife Neetu Kapoor and Randhir's wife Babita have also been famous Bollywood actresses.
Aren't they amazing?