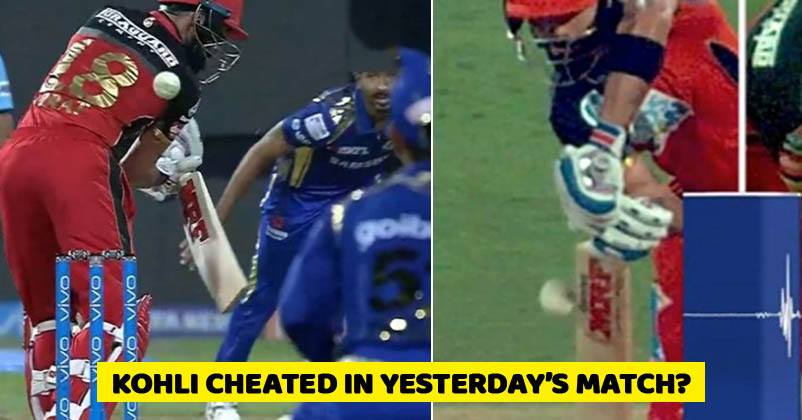 Virat Kohli seems to be unhappy nowadays as his IPL team Royal Challengers Bangalore is not performing well at all in the tournament despite the fact that he has played some really good knocks.
In the match against Mumbai Indians, Virat Kohli did something that not only hurt the emotions of his fans but also spoiled his image and earned him the tag of a cheater.
In the 14th over on Jasprit Bumrah's bowling, Virat Kohli edged the ball but the sound was so low that nobody including the fielders heard it so they didn't appeal for it. As umpire didn't give him out, Virat also chose not to react on it and he acted as if nothing had happened.
However when the replay was seen, the ultra edge (snickometer) gave a clear indication that the ball touched the bat. This made fans angry as they feel that Virat should have walked on his own even if the umpire didn't give him out. Some people went to the extent of saying that comparison of Virat Kohli with Sachin Tendulkar should not be made as Sachin would have walked without waiting for umpires if he was out but Virat did otherwise and this is what separates extraordinary from ordinary.
This is how Twitter slammed Virat Kohli and called him a cheater:
Kohli can never be Sachin:
Sachin would have walked out:
Karma is….
Kohli doesn't deserve to play for India:
This is why he can't be compared to Sachin:
Kohli is a big looser:
Shame on him:
Why Kohli why?
Virat Kohli scored 32 runs in the match against Mumbai Indians and the match was won by RCB by 14 runs. Well, this must be the best gift that Virat could have given to Anushka on her birthday.
What do you have to say in this regard? Let us know your views.