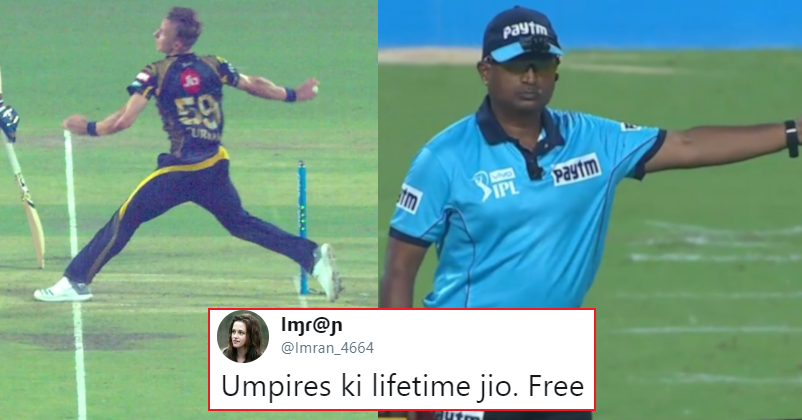 Looks as if there are too many umpiring errors in this IPL season. Even today, we saw a big error in the match between KKR and Mumbai Indians. MI defeated Kolkata by 102 runs, but what's being discussed more on social media today is faulty umpiring.
It was because of the umpiring mistake today that Mumbai Indians got a free hit on a wrong no-ball. However there was not much impact of this free hit as batsman could score only single on free hit. This happened in the 16th over; even though the delivery was a legal one, umpire declared it as a no-ball.
Umpire gave a signal of "Foot-fault" when Curran bowled to Rohit Sharma. However, when it was seen on big-screens, it was seen that major part of his foot was behind the crease. However his foot slipped and during the time of delivery his foot was behind the crease but first impact should be considered while calling No ball and umpires should be aware of this fact.
Here's the screenshot;
Curran and Dinesh Karthik conveyed this to the umpire but he didn't overturn the decision. Twitter is unhappy with this decision; they are trolling Umpire for the same and also asking BCCI to take some strict action
Disgraceful!
Jio Dhan Dhana Dhan Umpiring on display here.. Disgraceful
Haha!
Laalach!
LOL!
It was worst!
IPL or drama?
Umpires are sold?
Rule explained
Shame on umpire
Now, people want BCCI to take strict action against the umpire. What do you feel? Shouldn't 3rd umpire intervene in such cases as it can be very decisive. However luckily this no ball had no impact on the match because Mumbai Indians convincingly won the match but what if Mumbai Indian would have won this match by only one run? Then this no ball would have been talk of the town.