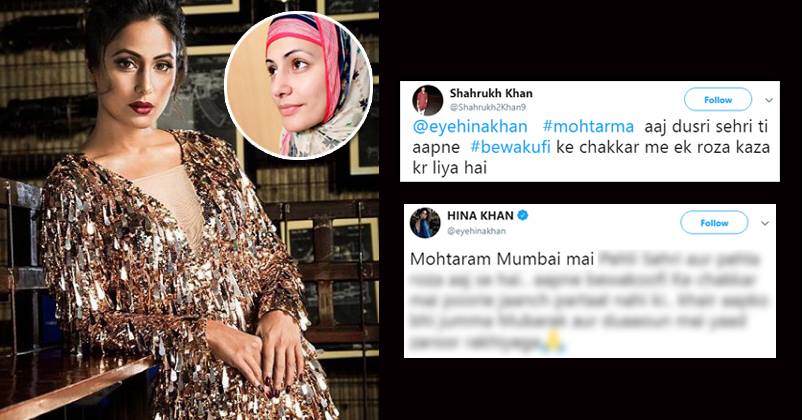 Hina Khan is rightly termed as the "Sher Khan"; she knows to tackle trolls in the best way. Hina and trolls go hand in hand, but she doesn't give a damn to them.
They constantly hit out at her, but Hina knows how to answer them back like a boss. Be it about her relationship with Rockky or be it about her dressing sense, trollers find every possible reason to make fun of her.
Recently, one of them didn't spare her for her Ramadan wish too. What happened is that Hina took to Twitter to wish happy Ramadan but one troller messed up with her badly.
Here's her wish;
She wrote, "Happy first Sheri everyone.. Ramadan MubarakJumma Mubarak "
As soon as a troller named Sharukh khan saw her wish, he trolled her and said that it was dusri sehri and not first. He also used the word Bewkufi which pinched Hina hard.
He wrote,
"@eyehinakhan #mohtarma aaj dusri sehri ti aapne #bewakufi ke chakkar me ek roza kaza kr liya hai
kher aapko bhi jumma Mubarak dua o me yad rkhiye ga"
On seeing this troll, Hina couldn't stop herself from replying to him. She gave a subtle reply in his style. She wrote;
Hina hit back saying, "Mohtaram Mumbai mai Pehli Sehri aur pehla roza aaj se hai.. aapne bewakoofi Ke chakkar mai poorie jaanch partaal nahi ki.. khair aapko bhi jumma Mubarak aur duaaoun mai yaad zaroor rakhiyega"
Hina didn't lose class but ensure to shut his mouth in the best way. We appreciate Hina for her calm reply. Rather than getting angry, she gave him a to-the-point answer. Kudos to her.