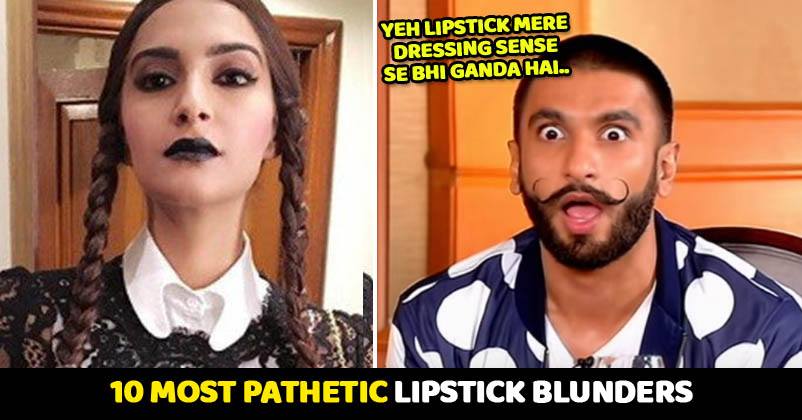 Bollywood and Hollywood actresses are experts when it comes to fashion. Further, they have professional stylists who accept everyday challenges to make these actresses look their best.
However, even actresses and their stylists are humans. They make mistakes and sometimes blunders too. Even though they try their best and have huge experience, they fail sometimes.
Today we'll talk about some lipstick blunders by gorgeous actresses who are no less than fashionistas. We wonder what were they thinking while using these lipsticks? Some of them even repeated these mistakes.
Have a look-
Aishwarya Rai Bachchan used a purple coloured lipstick for her appearance at the Cannes 2017 and it received extremely mixed response.
Sonam Kapoor used black colour lipstick for an ad campaign and shocked everyone with the results.
This time Sonam Kapoor used the black lipstick for a Halloween Party.
Nargis used a black coloured lipstick as per the demand for a magazine photoshoot.
This seems like a big big blunder and we wonder how Gauri Khan didn't see it.
Kareena Kapoor also failed as she went little over the board for an ad campaign.
Even Kylie Jenner couldn't save herself from doing this lipstick blunder.
It seems she trusted her stylist and makeup artists way too blindly.
Last but not the least, Kangana Ranaut deserves an entry in the list for this look.
What are your thoughts on it?