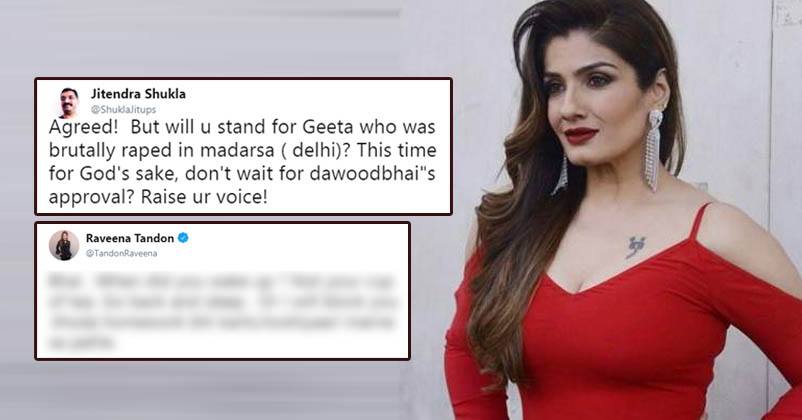 Veteran actress Raveena Tandon is one of those few Bollywood celebrities who use social media networks for raising voice and posting their opinion on social issues rather than just for promotional and endorsement purposes.
Recently, she took to the micro-blogging site Twitter to talk about how adversely the communalisation of rape is affecting society. She also asked her followers to expose those people who are filling our minds with hatred. In the end, she added that the weirdest tweet will be retweeted by her.
Here's what she wrote, "Frauds,religious fanatics exist in all communities,we be,Hindu,Muslim Christian or Sikh,conscientious people expose/weed them out,before they fill our minds with lunacy.Spread awareness.whoever posts most ridiculous hocuspocusbogus they've seen,will get a retweet from me !"
Many Twitter users supported her opinion but there was one online user who thought of trolling her.
He tweeted, "Agreed! But will u stand for Geeta who was brutally raped in madarsa ( delhi)? This time for God's sake, don't wait for dawoodbhai's approval? Raise ur voice!"
Raveena gave a perfect answer to the troller and asked him to do some home work.
She wrote, "Bhai . When did you wake up ? Not your cup of tea. Go back and sleep . Or I will block you .thoda homework bhi karlo,hoshiyaari marne se pehle."
Just to inform, Raveena tweeted this with regard to Geeta:
The troller listened to the advice and returned after checking the facts and apologised to the actress.
He tweeted, "After knowing the facts that Raveena ji has spoken for "Geeta" too, I beg apology from my heart from Raveenaji ! Hope , u will show a big heart and pardon me ? Thanks !"
Raveena forgave him and tweeted, ""
However, this was more than enough for Twitter users to troll that person. Check out some selected tweets:
We need more celebrities like Raveena who knows the best use of social media. What do you say?