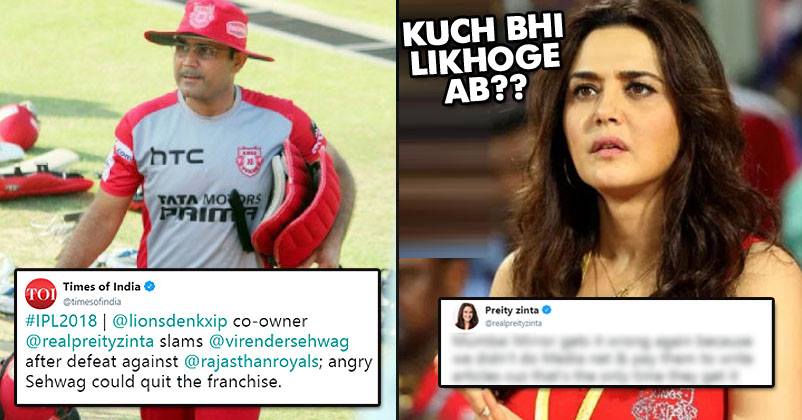 The IPL 2018 is marching towards the play-offs and every team is playing hard to make a place into it. Kings XI Punjab (KXIP) has always been an underachiever since the start of the IPL and it has never won the trophy. However this time, things are looking good for Punjab as it is on the third spot and it seems that the team will qualify for the play-offs.
The team mentor and former Indian cricketer Virender Sehwag definitely needs to be praised for the team's performance. But as per the reports published in Mumbai Mirror, all is not well between Sehwag and the team co-owner Preity Zinta.
On Tuesday, after the defeat of Kings XI Punjab against Rajasthan Royals (RR), it was being said that Preity Zinta slammed Sehwag for the changes made in the batting line-up on a regular basis because of which the team is losing matches. KXIP has lost three out of last four matches and in the match against RR, the target was modest 158 but the decision of sending the skipper Ravichandran Ashwin at number 3 before good batsmen such as Karun Nair and Manoj Tiwary didn't work because he got out for 0.
After this all, the reports started doing rounds that when the team lost, Preity went to Sehwag and questioned his decision and slammed him heavily. It was also being said that Sehwag was so miffed that he might quit the franchisee very soon.
However amidst all these reports, Preity took to Twitter and denied any such altercation with one of the most dangerous batsmen of the world. She slammed Mumbai Mirror for cooking fake stories and said that a conversation between her and Sehwag has been blown out of proportion and they are trying to portray her as villain.
She tweeted, "Mumbai Mirror gets it wrong again because we didn't do Media net & pay them to write articles cuz that's the only time they get it right. A conversation between Viru & me has been blown out of proportion & suddenly I'm a Villian ! Wow ! #fakenews"
Here's her tweet:
What is your take on this matter? Do let us know.