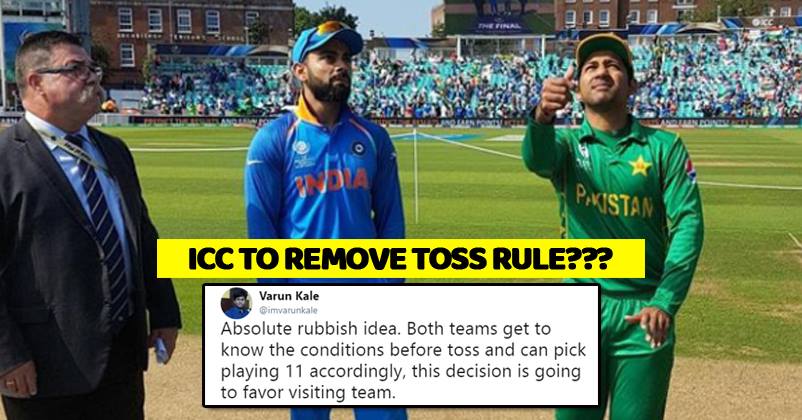 There's an important role of coin toss in cricket and needless to say, every team wants to win the toss so that it can bring into play its strengths by deciding to ball or bat first. This tradition has been continuing for a long time in which the home skipper flips a coin while the captain of the visitor team calls tails or heads.
International Cricket Council (ICC) is aimed at making a lot of improvements in the Test cricket and one of the suggestions in this regard is abandoning coin toss tradition and instead giving the opportunity of decision to the visitor team. This will naturally negate the home team's chance of getting any benefit from the pitch.
Cricket committee meeting of ICC will take place in Mumbai on 28thand 29th May and then only a decision regarding coin toss will be made.
All the panel members have received a letter according to which,
"Test cricket's fundamental starting point may be scrapped, as the ICC's cricket committee prepares to debate whether or not the coin toss should be removed as a way of reducing home ground advantage in the looming Test Championship."
The letter further read,
"There is serious concern about the current level of home team interference in Test pitch preparation, and more than one committee member believes that the toss should be automatically awarded to the visiting team in each match, although there are some others on the committee who do not share that view."
The members of the committee are Rahul Dravid, Anil Kumble, David White, Ranjan Madugalle, Clare Connor, Shaun Pollock, Andrew Strauss, Mahela Jayawardene, Richard Kettleborough and Tim May.
Twitter has actively reacted about the scraping of coin toss and appears to be displeased with the idea. Here are some selected tweets:
Many people have this question:
It will be almost partial:
Why this decision?
Don't break the traditions:
Even cricket is not spared?
Agree?
It's unfair! Don't agree:
Absolutely rubbish idea:
Don't destroy cricket and excitement:
LOL
Worst decision:
England's County Championship has been giving the visitor team's skipper a chance of deciding whether to ball or bat first without coin toss since 2016.
If ICC changes the rule, it will have to be implemented before World Test Championship begins. It will take place the next year and will continue till 2021.
What is your take regarding the scraping of coin toss?