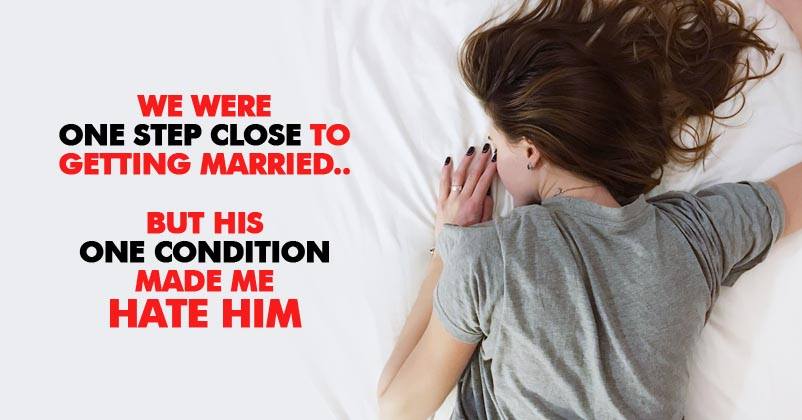 I considered myself very lucky and blessed to have a boyfriend like Rohan. We completed our engineering from the same college and then he went Ahmedabad for pursuing MBA in finance while I stayed in Mumbai and did my MBA in HR.
He hailed from a reputed and affluent family and the best thing about him was that he didn't have any bad habit like smoking, drinking, etc. His personality could drive any girl crazy; his height is almost 6 ft 1 inch, fair complexion, sharp features and muscular physique. To sum up, he had everything a girl wants to see in her partner.
I was overjoyed when he proposed to me in the first year of B. Tech and all the girls were damn jealous of me. I felt like a queen during those 4 years and the whole college used to look at us as a perfect couple. We hardly had any argument and were almost like husband and wife in our college. In fact, his friends used to call me "Bhabhi" and my cheeks got red while blushing as if colour of hundreds of roses was sprinkled on them.
When he went to Ahmedabad, it was difficult to live without him for 2 years and each moment seemed quite long as we used to meet almost daily. But I was also busy with my studies and gradually the period of separation also came to an end. He completed his MBA with good rank and got the job of an investment banker in a multinational company. I too got employed in a recruitment firm and it was time to be united forever.
Our family members already knew about our relationship and they didn't have any objection because we both were mature and focused on our career first. So there were no complications like telling both families about our relation and then convince them to approve.
Rohan wanted some time for marriage so that he could get settled properly in professional terms and save a good fortune for our future. I had always supported him in every decision and this time too, I didn't force him. After 2 years, he got promotion and hosted a small party in which he proposed to me for marriage. That was an unforgettable moment and I at once said "YES".
We had a coffee date the next day and while I was enjoying his company with a delightful cup of coffee at my favourite restaurant, he asked me when I would resign from my job.
I was shocked and asked as to why I would give resignation since we both were in the same city and there was no need for me to leave job to marry him.
He said that he was earning pretty well and I actually didn't need to work outside home as he would be able to earn sufficient for both of us. In his opinion, he waited for 2 years so that I didn't have any requirement to work, adding that he had saved a lot for us and made investments for our secured future as well. Not just this, he purchased a separate flat for us too. Overall, he wanted to convey that I would neither regret leaving job nor face any financial crisis after marriage.
But why should I? I asked him as to why I can't continue my job post wedding because I had the ability to manage home and office both. In reply, he said that his mother was also equally educated as his father and had a good job at the time of marriage. But when his father asked her to resign, she simply respected his will and became a housewife. His parents and he wanted me also to become a housewife as they had enough to feed me for the lifetime.
Is it necessary for history to be repeated? I had never seen him so adamant and dominating. I tried my best to change his mind and made him understand that it's not always about money. I want to be independent and achieve big in life on my own rather than looking for a trophy husband on whose bank balance I would live a luxurious life. Of course, his money will also be mine but would I be able to feel complete right on it and he would never ask me where I spent it?
What about my identity? Does being a woman mean that she should be confined within the four walls of a house and will have to kill her desires just because her husband and family are not in favour of it? Does she have no right to chase her passion?
I lost my temper and said that I would not resign, no matter whether he got married to me or not. This time, it was his turn to be shocked and we returned home. Thank God, my family supported me but his one condition separated us and turned my love for him into hatred.
I was surprised because he never talked about it in all these years and all of a sudden put this condition before me for marriage. I refused; he moved on and tied knot with some other girl while I have still not come out of the shock that he gave me.