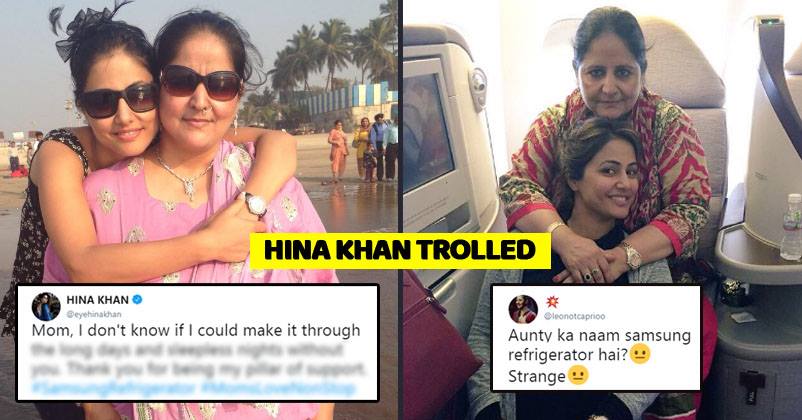 The popular TV actress Hina Khan who rose to fame with Yeh Rishta Kya Kehlata Hai often makes headlines but mostly for wrong reasons. She was heavily slammed and criticised for her antics in the reality show Bigg Boss. And once again she has done something that has made her an object of mockery on social media.
It so happened that on the occasion of Mother's Day, Hina took to the micro-blogging site Twitter and posted few pics in which she was seen posing with her mother.
Check out pics:
She shared the photos with caption,
"Mom, I don't know if I could make it through the long days and sleepless nights without you. Thank you for being my pillar of support. #SamsungRefrigerator #MomsLoveNonStop @Samsung_IN"
Here's her tweet:
If you read her tweet, you will easily understand that it's a promotional tweet for the refrigerator of Samsung brand.
The relation of a mother and child is considered to be the most sacred and selfless; however, Hina tried to cash on the Mother's Day and this is what Twitterati just couldn't tolerate. Many people slammed her and said that she could have at least spared her mother while others called her greedy and mean. Some tried to pull her leg by asking if Samsung refrigerator is her mother and few others inquired whether she got a free refrigerator or not.
Check out some selected tweets:
Is Samsung refrigerator the name of your mother?
Hope mom is more important than refrigerator:
At least spare your mom:
Greedy:
Mean:
Shame on you:
Got free refrigerator?
What do you have to say about Hina's tweet? Let us know.