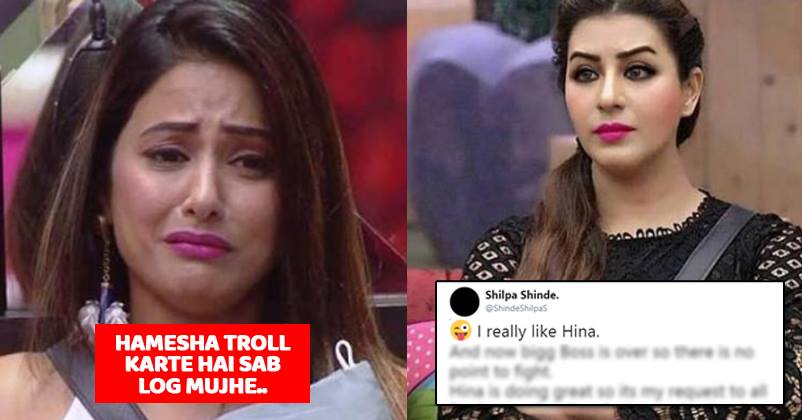 Shilpa Shinde and Hina Khan were at loggerheads in Bigg Boss 11. They always had catfights & fans were divided into 2 teams.
Even Bigg Boss contestants were divided; overall, we got to see too much drama in the house. On social media too, we always saw Shilpa v/s Hina.
The show got over long back, but fans have still not gotten over this war. Many a times, Shilpa's fans abuse and troll Hina on Twitter. The same is done with Shilpa too. Recently, Hina and her boyfriend Rocky Jaiswal slammed Shilpa and left insulting comments for her.
However, Shilpa is cool-minded and she has proved it. She doesn't want to fight anymore and her tweet reflects her calmness in every way.
Yesterday, Hina was trolled left and right for her mothers' day wish. She had tagged Samsung in a bid to win a free refrigerator. Many Shilpians left hate comments for her and insulted her.
This is when Shilpa came to her rescue and requested fans to stop spreading negativity. Shilpa openly said that she likes Hina and doesn't believe in hatred.
The tweet read, "Life is really very short. Negativity Se Jyada fun dekho I really like Hina. And now bigg Boss is over so there is no point to fight. Hina is doing great so its my request to all fandom, rather than hating each other love your idol."
Hope fans have got her message clearly. They should stop such negative things, especially when the show is over.