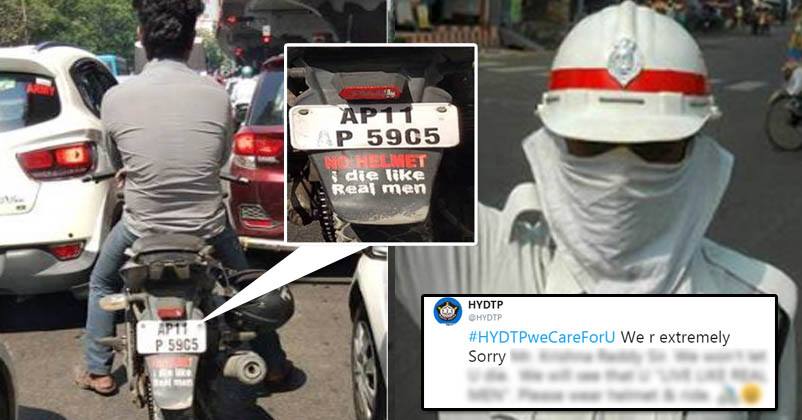 There is no denying the fact that everyone should follow road traffic rules and safety measures while driving on road in order to keep themselves safe.
Wearing helmet is something that very biker should do whenever he/she rides a bike on road but a brave-heart biker from Hyderabad has written a daring message just below the number plate (AP11 P5905) of his bike. The message that he has written is, "No helmet I die like real men".
Take a closer look:
He has not only ruled out any possibility of wearing helmet but also stated that he will die like real men.
The Hyderabad traffic police saw the message and tweeted to the biker, "#HYDTPweCareForU We r extremely Sorry Mr. Krishna Reddy Sir. We won't let U die. We will see that U "LIVE LIKE REAL MEN". Please wear helmet & ride. ‍@AddlCPTrHyd"
Check out the tweet:
The traffic police also tagged the additional commissioner of police (traffic) in this tweet. Anil Kumar, additional CP (traffic), said,
"The owner of the bike has a total of 10 challans pending against him. Seven challans are for violating helmet rule. We are trying a humorous and funny approach to warn people who are found violating the traffic rules to grab their attention. People are more responsive when police are friendly and funny."
We also request our readers to wear helmets while riding.