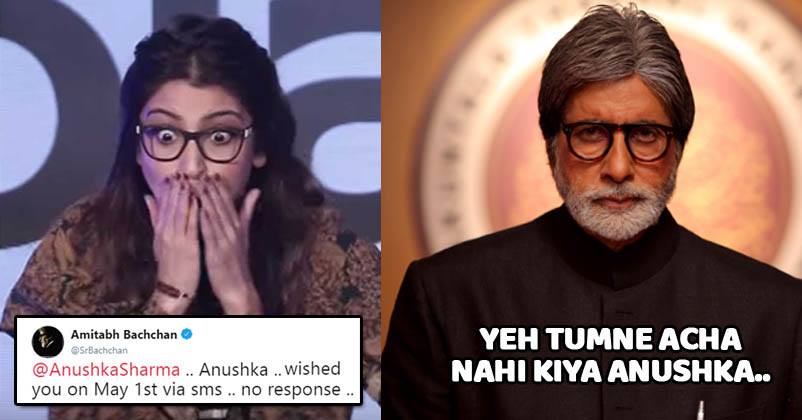 Big B is quite active on social media. The way he tweets reflects his sense of humor and wit.
One thing which we have noticed about Big B is that he never likes it when his birthday wishes go ignored. Whenever he doesn't get a reply to his wish, he expresses disappointment on Twitter.
Yesterday, Anushka Sharma celebrated her 30th birthday and as always, Mr. Bachchan sent her warm wishes. Unfortunately, he didn't get response because her number wasn't working.
The actor wanted to bring this technical glitch to Anushka's notice and hence, he tweeted out to her. This is what he wrote;
The tweet read, "@AnushkaSharma .. Anushka .. this is Amitabh Bachchan @Srbachchan .. wished you on May 1st via sms .. no response .. checked they said you changed number .. sent greetings again .. love and wishes .. you looked radiant at the IPL game last night "
We already knew that Anushka wouldn't ignore Big B's message on purpose. She too took to Twitter to thank him for his lovely wishes. Not only that, Anushka also told him that she just replied to the SMS too.
This is what she tweeted;
The tweet read, "Thank you so much Sir, for remembering my birthday and sending your kind wishes! (Responding to your sms as I tweet this) "
Aww, that was such a cute conversation. Love to see such bonding between celebs.