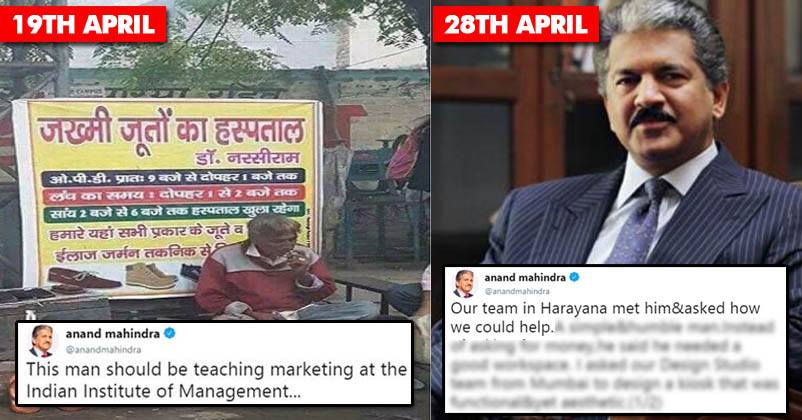 Anand Mahindra is a great Indian businessman and a beautiful human being too. Unlike the arrogant billionaires, the chairman of Mahindra Group is quite open to the world. He understands the world outside his corporate universe and appreciates the extraordinary intelligence of ordinary people.
A few days back we reported how Anand Mahindra appreciated the marketing skills of a cobbler who works roadside. He shared a picture of the cobbler's humble workplace and expressed how much he liked the way he presented his work. He even went on to say "This man should be teaching marketing at the Indian Institute of Management…"
In another tweet, he expressed to know about his whereabouts and invest a little in his startup.
He got to know about his address in Haryana and has posted an update regarding the future plans now.
Anand Mahendra recently tweeted that his team met the cobbler and asked him about how can they help him. In couple of tweets, he said-
Recall my tweet about Narseeji,the cobbler?Our team in Harayana met him&asked how we could help.A simple&humble man.Instead of asking for money,he said he needed a good workspace. I asked our Design Studio team from Mumbai to design a kiosk that was functional&yet aesthetic.(1/2)
They flew down to meet him&produced these ideas. We would be delighted to get your inputs on the analysis & approaches & which you prefer. We want to design something that enhances the pavement aesthetic & hopefully create a template for roadside vendors..(2/2)
The picture ideas can also be seen below-
This is how people reacted-
How beautiful is that! Don't you agree?