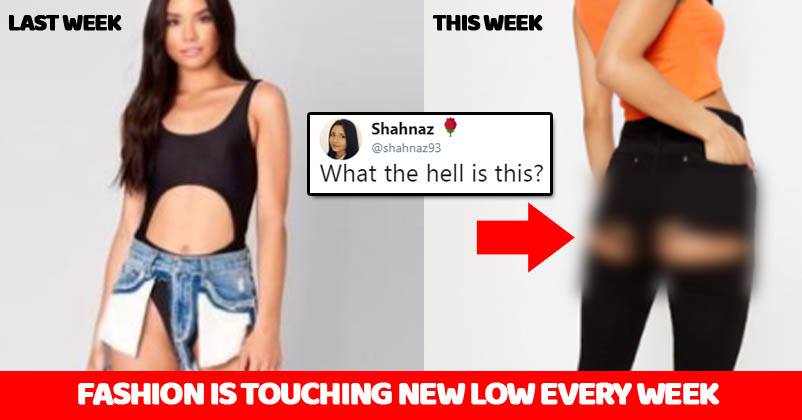 Fashion, especially in terms of clothes, has been changing since ages and will continue to change. However, even the most latest and fashionable attire is also assumed to be decent and not something that raises eyebrows.
Needless to say, a lot of experimentation is done with the types of clothes that are in vogue for a long time and every designer tries to give them a new look by adding some element of creativity. Some succeed while several others end up disappointing people. Last week, a fashion company launched
"extreme cut out jeans"
and people actually didn't like the idea and once again, the fashion world has got a shock with this new pair of jeans that is ripped on bum.
Yes, you read it right! A fashion retailer Pretty Little Thing has come up with something that can be categorised under weird fashion as it's selling a bum rip high waisted skinny jean and that too for Rs. 2,288 (£25).
Here's what the retailer has written about the jeans,
"Flaunt some skin with these seriously on point skinny jeans. Featuring a black denim fabric with a flattering high waisted fit and distressed bum detail and a zip leg, style with your everyday pieces or dress them up for hitting the town with your besties."
Twitter is not very happy with this unpleasant experiment to humble jeans and this is how people reacted:
Need to see twice?
Hazard!
Every mom would do that!
Like seriously?
LOL
Exactly!
Will you ever dare to wear those jeans? What are your views about it? Let us know.