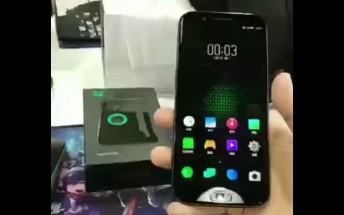 Xiaomi-backed Black Shark is getting ready to unveil its first smartphone. The eponymous device will be all about gaming, as Black Shark is meant to be a gaming-focused offshoot of the Chinese handset maker.
Sure, it's not the longest of videos - by any stretch of the imagination. Yet it does give us our first 360-degree view of the smartphone.
It looks pretty big and bulky, as you can see, but that may aid in handling, especially when holding it in landscape in order to enjoy a game or two. Or three. Unlike the also gamer-focused
Razer Phone
, this one is much more curvy.
From previous leaks we've gathered that the Black Shark will have the Snapdragon 845 chipset, 8GB of RAM, at least 32GB of storage, and a 2,160x1,080 touchscreen with 18:9 aspect ratio. It may become official
as soon as tomorrow
.
Thanks for the tip, Zoser!