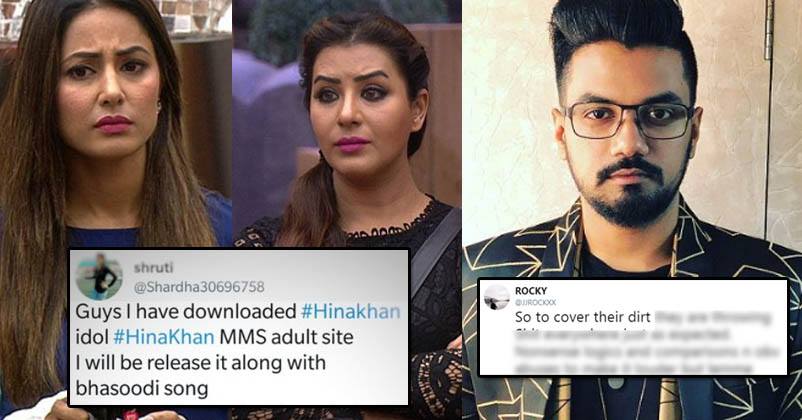 Although Bigg Boss 11 is over, the cat fight between Hina and Shilpa still continues. Recently, an adult video was shared by Shilpa, after which she got slammed by Hina Khan and her husband Rocky Jaiswal.
They both slammed her for being careless and insensitive. However, Shilpa's fans left no stone unturned to support her.
However, one fan reached an extreme level; she threatened Hina Khan and said that she just got hold of her MMS clip online and is planning to make it viral everywhere.
Not only this, Shilpa's fan also told her that she planned to leak the video along with the song Bhasoodi. Shilpa Shinde told the fan to delete the video immediately.
This is what she tweeted;
The tweet read, "Guys I have downloaded Hina Khan idol HinaKhan MMS adult site I will be release it along with Bhasoodi song. Plan is making both videos viral. Hina jse logo ke fans nahi clients hote hain. One request from Shilpa fans. Hina ke fans matlab client se."
When Rocky saw this tweet, he immediately came to defend his lady Hina. He blatantly said that he just doesn't CARE and such things don't affect their lives.
The tweet read,
"So to cover their dirt they are throwing Shit everywhere just as expected. Nonsense logics and comparisons n obv abuses to make it louder but lemme break your dream , it's not affecting at all. U like ur idol still make no sense and have no sensible explanations over the issue!"
One more..
It read,
"Yes to make your selves happy and illogically content your void, your Idols and their media handlers (back to life) are promoting hate/abuses/anarch just like it's still BB11. There is no WKV to cover your filth anymore. And btw don't lemme start on who wants promotions and how."
Well, he slammed her left and right for threatening Hina. Hope she has got a good dose after the tweets.