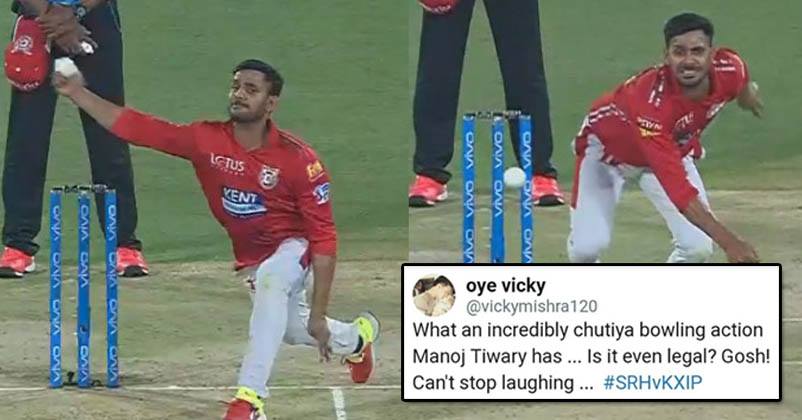 IPL 2018 has already given us many hilarious and crazy moments. Be it unusual stumping actions or be it some unexpected shots, we have witnessed it all.
Today, we saw some weird bowling coming in from Manoj Tiwary. In today's match between Kings XI Punjab and SRH, Yuvraj Singh was replaced by Tiwary.
He's a batsman but tried his hands at bowling. Tiwary's action was weird and Twitter is wondering what it was.
Here's the video;
Click here
to watch the video directly on Twitter.
Some say that his bowling was illegal. As per ICC,
"An Illegal Bowling Action is where a player is throwing rather than bowling the ball. This is defined by the ICC as being where the player's elbow extends by an amount of more than 15 degrees between their arm reaching the horizontal and the ball being released. Match Officials in international cricket use the naked eye and their cricketing experience to decide whether they believe a player may be using an Illegal Bowling Action and, if so, they will submit a report."
Here's how Twitter reacted;
Heart attack?
Like a superman!
Can't stop laughing!
Malinga with loose motions!
LOL!
Underarm?
Ugliest!
We will have to wait for ICC decision whether Manoj Tiwary action falls under legal delivery or not.