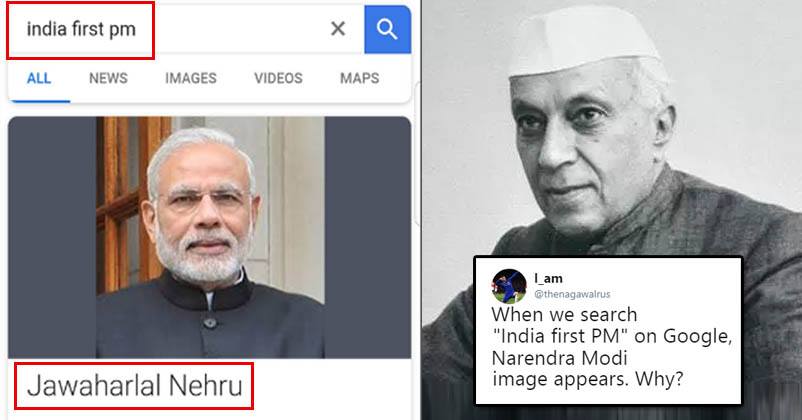 Google seems to be obsessed with the Indian Prime Minister Narendra Modi and that's why, it loves to use his photo at just any place. Earlier we have seen that Google listed PM Modi under the category of Top 10 Criminals and then it categorised him as the Most Stupid Prime Minister. Even though Google apologised for both the blunders, he then showed PM Modi's image with the name of Jawahar Lal Nehru when a person searched for
"India's first prime minister"
.
This happened in 2015 and now once again Google seems to have committed the same blunder or rather we should say technical glitch.
The error came to light when someone typed "India first PM" on Google and the result displayed name of Jawahar Lal Nehru with the photo of Narendra Modi.
The error seems to have been rectified now; however, Twitter was flooded with queries when users got this result. Check out some tweets:
The largest search giant Google has chosen to remain mum on this matter as of now and it can be pretty possible that it may be a technical glitch that showed the first photo of the Wikipedia page, "List of Prime Ministers of India", however when it opens completely, it clearly tells that Narendra Modi "is the current (14th) Prime Minister of India, since 26 May 2014".
A user tried to explain it and here's what he tweeted,
"Sigh..
1. Google is serving up a Wikipedia page on the topic, "List of Prime Ministers of India – Wikipedia"
2. The first image on the Wikipedia page is of Narendra Modi, PM.
3. When displayed on a narrow screen, the image comes up first.
Can the lady NOT understand this?"
Well, we don't know whether this answer is correct or not but all is well since Google has corrected the mistake.
This is how Twitter reacted over it:
What do you have to say in this regard?