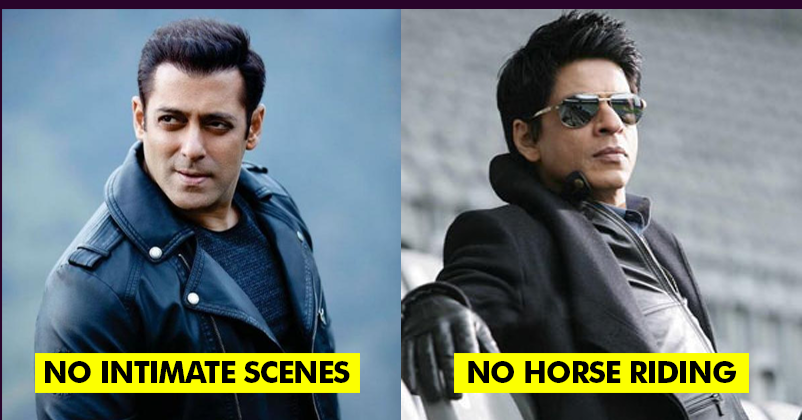 We all are crazy for a particular celebrity and can go to any extent to prove our love for him/her. After watching a movie, we appreciate the star for his performance, but do we realize the hard work behind it? Celebrities have their own way of working and put in lots of efforts so as to get those claps and whistles.
However, these stars are very particular about their contracts. They sign it very carefully and include certain clauses in it to ensure there's no discomfort while shooting. Obviously, if they are working so hard, isn't it justified to put forth some demands?
In this article, we shall discuss some shocking clauses that our favorite Bollywood stars have included in their contracts. You will be amazed to know these unique conditions.
1. Salman Khan – No intimacy.
Even though he is a big star, he has a very strange clause. Salman Khan says a strict no to "Intimacy" in films. He's against lip-locking too. He says that his mom watches all his films and if she comes across such scenes, it would be very uncomfortable.
2. Shah Rukh Khan – No horse riding.
Years ago, SRK suffered from a severe back pain due to horse-riding; after that, he said a no to ride a horse.
3. Priyanka Chopra – No nudity.
Priyanka has gained a lot of popularity in Hollywood too. She has included a "No-nudity" clause in her movie contracts. The actress has done the same for "Quantico", the famous American series and "Baywatch", her new film.
4. Hrithik Roshan – Work more, earn more.
During Mohenjo Daro , Hrithik had added a special clause in the contract. The actor said that if he has to work more (Due to unwanted delays) than the actual schedule, he will charge more.
5. Sunny Leone – No kissing.
Sunny Leone is famous for her steamy scenes, but you will be surprised to know that she has included a "No kissing" clause. She is completely fine with intimate scenes, but kissing is something she doesn't like.
6. Akshay Kumar – No work on Sundays.
In all the contracts, Akshay has mentioned that he won't work on Sundays. May be he likes to enjoy some family time. However, he broke this clause during the movies "Brothers" and "Once Upon A Time in Mumbai 2".
7. Kareena Kapoor – No kissing.
After marriage, Kareena changed her clauses. She is strictly against bedroom scenes and kissing scenes now.
8. Kangana Ranaut – Final edit.
Kangana is damn strict about final edits. In the contract, Kangana has mentioned that the film must release only after a green signal from her side.
So, weren't these clauses weird? Do you know some other celebs who have such special clauses? Share with us in our comments section below.