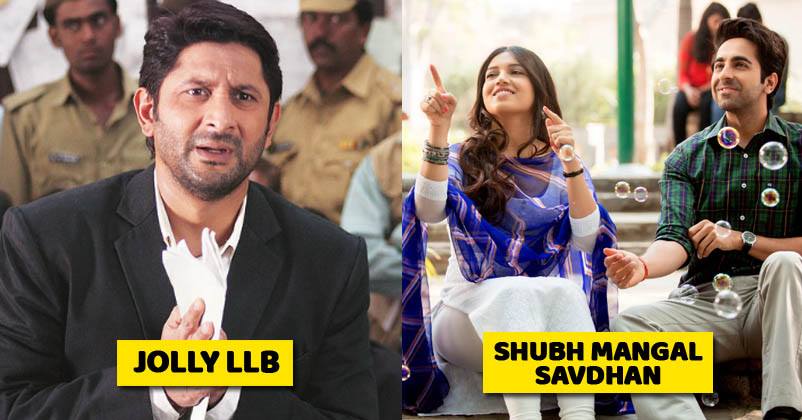 Big stars, Big budget indeed help the producers earn huge money and attract the crowd, but that's not the last option. Content has always been the king and it will always be. There have been many films in Bollywood which proved to be huge Hits just on the basis of content.
These Bollywood films had small budgets, unconventional genres and most of the times small stars, but still, the content came to the rescue and made these films Big Hits.
Here is a list of 10 such films-
The film didn't have any big star or a big budget. It worked because the audience loved the trailer and the content as well. They in fact loved the film so much that it went on to cross 100 crores mark and emerged a Blockbuster.
Irrfan Khan's Hindi Medium was a low key affair and released without much promotions. It still proved to be a Huge Hit just because the content was highly entertaining and the audience could relate to it.
Sridevi's English Vinglish released back in 2012 with lukewarm hype at Box Office. The film got a very small opening but the content helped it pull more audience.
The film remained very steady throughout its run and turned out to be a huge Hit.
Ayushmann Khurrana and Bhumi Pednekar's DLKH was a small film with highly entertaining content. Great word of mouth helped the film sail through and proved to be a profitable venture for all.
Arshad Warsi's Jolly LLB is just another case of the small budget but high-profit success. The film got a small opening but word of mouth helped it be a Box Office Hit. A sequel to the film was made in 2017 and it also proved to be a Super Hit.
Anushka Sharma made her debut as a producer with this film. The film had small budget, small hero, unconventional but good content. It proved to be a Hit after a long Box Office run.
BKB starring Ayushmann Khurrana, Kriti Sanon and Rajkummar Rao was among the best films of 2017. It received a great response from people and proved to be a strong Hit.
Sridevi's last film MOM was also a big example of content-oriented and small budget Hits. Strong content and high octane performances were the driving factors for the film.
A unique storyline, quirky music and superlative performances helped this small budget film be a success.
A strong film with strong message proved to be a sensation thanks to it's powerful and unapologetic content. Pink which was made on a strict budget proved to a Super Hit at Box Office.
What are your thoughts on it?