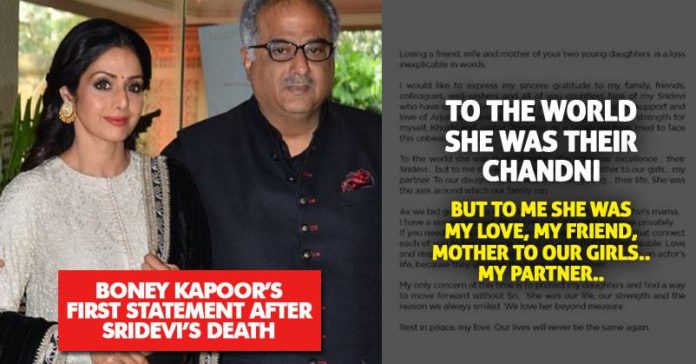 Our favorite Chandni has left us forever and we will definitely miss her and her brilliant acting. It all happened suddenly and we didn't get time to even digest it.
Sridevi's family is in a state of shock; her husband Boney Kapoor and daughters Jhanvi & Khushi are totally shattered. They got the body after a 3-day long procedure in Dubai. Since Boney Kapoor was in a chaotic situation, he just couldn't come in front of the media and talk about this.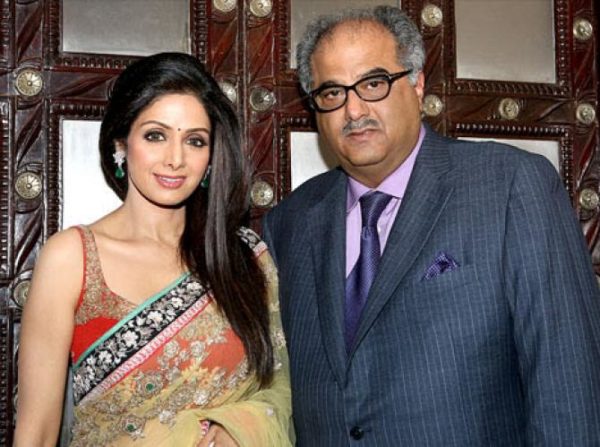 Now that everything is over, Boney Kapoor has issued an emotional note on Sridevi's official Twitter account.
This is the tweet;
The note read,
"Losing a friend, wife and mother of your two young daughters is a loss inexplicable in words. I would like to express my sincere gratitude to my family, friends, colleagues, well-wishers and all of you countless fans of my Sridevi who have stood by us like rocks. I am blessed to have the support and love of Arjun and Anshula, who have been such pillars of strength for myself, Khushi and Janhvi. Together, as a family we have tried to face this unbearable loss.
To the world she was their Chandni… the actor par excellence… their Sridevi… but to me she was my love, my friend, mother to our girls… my partner. To our daughters, she was their everything… their life. She was the axis around which our family ran. As we bid goodbye to my beloved wife and Khushi & Janhvi's mama, I have a sincere request. Please respect our need to grieve privately. If you need to talk of Sri, let it be of the special memories that connect each of you to her. She was and is an actor that is irreplaceable. Love and respect her for that. The curtains never come down on an actor's life, because they shine on the silver screen forever. My only concern at this time is to protect my daughters and find a way to move forward without Sri. She was our life, our strength and the reason we always smiled. We love her beyond measure. Rest in peace, my love. Our lives will never be the same again.
Boney Kapoor"
Yes indeed, their lives will never be same again. I got tears in my eyes reading this note.