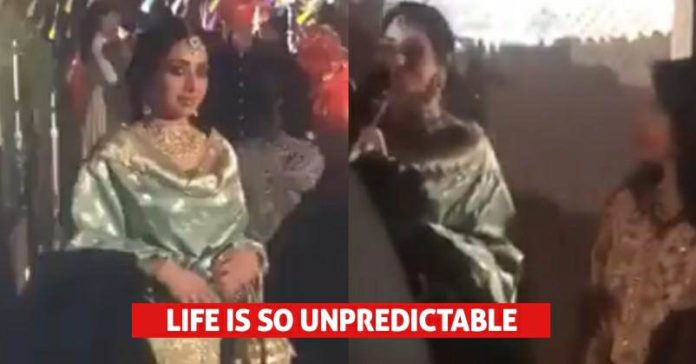 Bollywood actress Sridevi left the world & left everyone shocked. She was just 54, and no one could believe this sad news. Sridevi was very well maintained and looked totally fine in her latest Instagram pictures i.e. the ones from the Dubai wedding.
Jahnvi could not attend the marriage as was busy with her shoot here. We can't even imagine the amount of grief her daughters and husband must be having.
Amidst all this, a video of Sridevi from the wedding is going viral on social media. Yes, in this last video, the actress looked normal & happy. She was greeting all guests and was enjoying the wedding thoroughly.
After seeing the video, we can say that life is really very unpredictable. Watch it right now;
Just two days before her untimely demise,

#Sridevi

was seen looking beautiful as ever, enjoying a family wedding in Dubai. This is her last public appearance.

pic.twitter.com/RZfxuHwdy2
Click here
to watch the video directly on Twitter.
This is how people reacted…
We can't believe!
Last flying kisses!
Her last flying kisses to all her fans before leaving this world. Will miss you ma'am… we are too sad today… tears are rolling down my face…
Heartbroken!
totally heart broken
Shocked!
But her face seems to be a bit swollen in this video and the latest

https://t.co/zGjUUMEUVs

never know whats going on inside yr body.Shocked at her early demise.सच मे बिजली गिरा कर चल दी ये तो।

#Sridevi
May God give courage to her family to deal with her untimely death. RIP Sridevi.