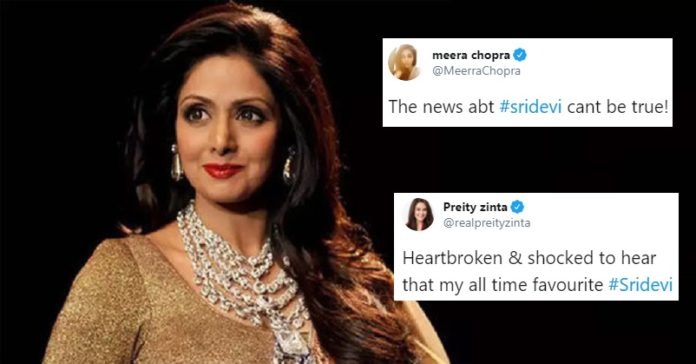 The news of Sridevi's death is the most tragic news of recent times. The 54 year old legendary actress was last seen in Hit film Mom and was still young.
As per reports she passed away while she was in Dubai for a family wedding due to heart attack
Sridevi's brother in law and former Bollywood actor also confirmed the news to Indian Express. He said-
"Yes, it is true that Sridevi passed away. I just landed here, I was in Dubai and now I am flying back to Dubai. It happened roughly around 11.00-11.30. I don't know more details yet"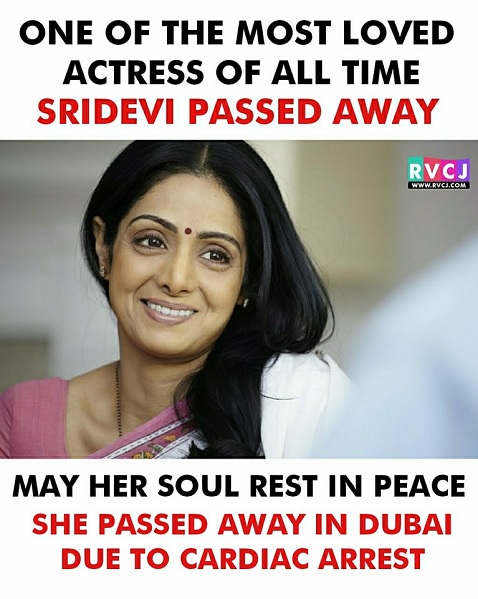 Meanwhile, social media especially Twitter is going through huge shock. Celebs and fans are not able to believe the news and are hoping it to be a rumour
#1
Totally in shock to hear

#Sridevi

demise!!
#2
Live Your Life To The Fullest, Take Good Care Of Yourself. Enjoy Every Moment, You Never Know Which One Would Be The Last.

#Sridevi #RIPSridevi
#3
#4
I dont know but its hard to accept that

#Sridevi

is no more.

RT if you too think that its hoax.
#5
God !!! I still can't believe this !!! The most gorgeous actress of every era is no more between us !!! You will be missed

@SrideviBKapoor

Feeling nostalgic !!

#RIPSridevi #Sridevi pic.twitter.com/m2QVNdrrIE

— Adeera

(@AdeeraSharma)

February 24, 2018
#6
#7
Absolutely shocked to learn about the demise of

#Sridevi

, one of the finest actress of Indian Cinema. May her soul rest in peace. Prayers and strength to family.

https://t.co/DygsHSCPXh
#8
Nothing is immortal on Earth..
The one who come must have to go back…
From Chandini,Lamhe,Khuda Gawah,Nagina, Chaalbaaz,Mr. India
Sadma,Roop ki Rani Choron Ka Raja
To Mom…

Films that shaped our childhood. What a legend. Rest in peace.

#Sridevipic.twitter.com/5LPmr4aaro
#9
Heartbroken by this news!! She was One of the finest kindest souls I ever knew

speechless shocked

#RIP #Sridevi

this is just not right at all! May god give all the family strength at this darkest hour.

pic.twitter.com/lBZrQjEabE
#10
I have no words. Condolences to everyone who loved

#Sridevi

. A dark day . RIP
#11
Absolutely devastated to hear about the passing of

#Sridevi

. What a dark black terrible moment in time. Gutted.
#12
This is so so sad.

#SriDevi

was a legend, an inspiration and one of the finest actresses, dancers and performers in Hindi cinema. She is gone too soon and has taken a bit of our youth with her. Rest in peace, beautiful woman.

pic.twitter.com/UT4zX7eIdT
#13
Terrible terrible news…. Am shocked beyond words. SRIDEVI ji No More …

RIP
#14
RIP

#Sridevi

One of the absolute queens of Bollywood. Gone too soon
#15
Omg!! Im in shock !! Lost for words!! my all time favourite

#Sridevi

may your soul rest in peace .. my prayers go out to her family x
#16
Heartbroken & shocked to hear that my all time favourite

#Sridevi

is no more. May god give peace to her soul & strength to the family

#RIP
#17
Deeply saddened and shocked to hear about

#Sridevi

Ji. My prayers and condolences to the family.
#18
Really Shocked and disturbed to hear that Sridevi Ma'am is no more

#RIP#Sridevi
May her soul rest in peace!