Doctors take an oath to save their patient's life. They are given the status of God because they save everyone's life by giving immediate medical treatment. But after watching this video, your views will change because for this woman the negligence of the Doctor, whom she considered God, actually killed her baby.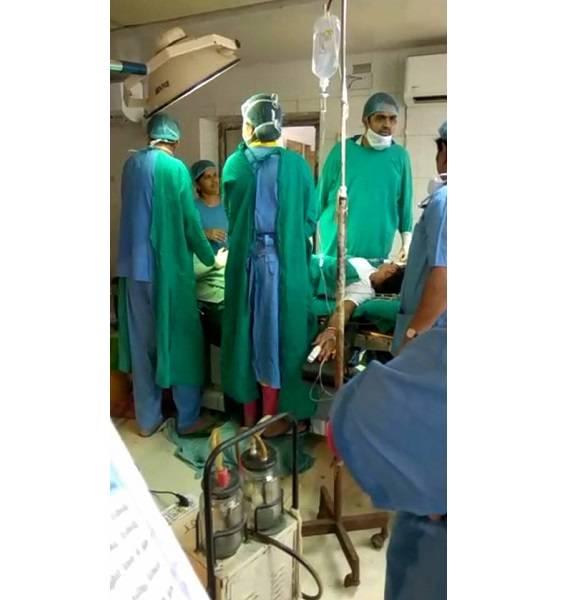 In an unfortunate incident at the biggest hospital of Jodhpur, Umaid Hospital, an unconscious pregnant lady had be treated with an emergency C-section. She was lying on the table as the surgery was going on. Amidst the operation, two doctors began to shout at each other and indulged in a verbal spat while one of the co-workers recorded the entire incident. The unfortunate consequence of this fight was the death of the baby which was delivered by one of the doctors, the obstetrician.
The two doctors are Ashok Nainwal and ML Tak and the argument started because of the weak heartbeat of the foetus. Dr. Nainwal asked whether the patient had eaten before getting operated and he was also not convinced with the tests done by a junior doctor on the instructions of Dr. Tak.
Dr. Nainwal (green scrubs) can be seen saying to Dr. Tak,
After seeing this video one can only say that the doctors have indulged in some sort of rowdy street fight. The mere medical negligence shown by the doctors is frustrating everyone to the highest level. The staff and nurses were also seen trying to calm them down reminding them of an ongoing operation, but to no avail.
Although both the doctors have been suspended but this shameful incident raises a question on the safety of patients. What's more, mobile phones should not be taken into the operation theatre as they are also a source of radiation but we can see that not only the mobiles were ringing but a video was also shot.
We can only imagine the situation of the parents, especially the Mother. Do you think suspension is the only solution? Their licenses should be cancelled so that it teaches them a lesson and also serves as an example to other Doctors in the future.
What do you say?